Sprinkler System Maintenance
When completing irrigation system maintenance, it's important to go with a company that you can trust. Our professional team of experts at Rainforest Irrigation have the skills and experience necessary to carry out all your irrigation system maintenance needs, even if we did not install your sprinkler system.
Irrigation System Maintenance:
Winterization – Winters in Southwestern Ontario can often be harsh so it's important to protect your sprinkler system by having it winterized each year. Winterization of your sprinkler system can help prevent damage and repairs that result from the leftover water in the pipes of your system.
Mid-Season Adjustments – Each year the temperatures fluctuate and it can be hard to predict how much rain or sun an area will receive. This is why it's important to get mid-season adjustments performed your irrigation system so that you can continue to save money on your water bill by only watering when you need to. A mid-season adjustment is also necessary when your landscape changes – you may need more or less water now. A mid-season tune up also allows Rainforest Lighthouse to replace old sprinkler heads, update landscape lighting, or update new time clocks, depending on your unique needs.
System Opening – After your sprinkler system has been winterized and shut down for the season, it is important to have it reopened in the spring by professionals. This is recommended because it ensures your system is properly started up again without damaging the irrigation system. System opening includes checking the pressure on the valves, and inspecting sprinkler heads and sprinkler stations.
Backflow Prevention Testing – It is highly important to conduct backflow prevention testing on your sprinkler system periodically in order to prevent contaminated water from the ground from entering your sprinkler system. This can happen when water pressure is reduced, if a pipe bursts or freezes, or even after a change in seasons when the temperature fluctuates.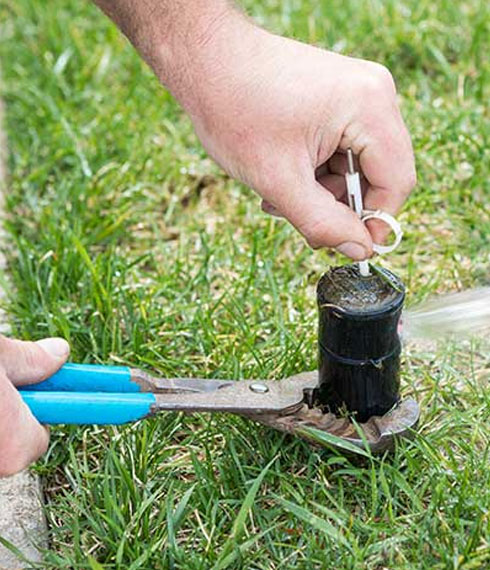 Contact us today at our London or Sarnia location for pricing information for our different maintenance packages or to request a service call!